Part One, Animal Nature download.
50 mins.

£5.00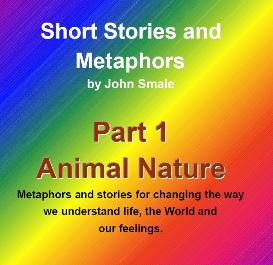 BUY NOW
Part One, Animal Nature
By telling stories of human problems set as if they are played out in the animal worlds, we can gain insights into our own frailties, vanities and inertia. By making comparisons we can very often gain the understanding that we need to move onwards.

We can see reflections of ourselves in the characters of animals. The wolf in 'Little Red Riding Hood' represents the predatory nature of men. The dragons that needed to be slayed were, and are, the threats from bullies. Sometimes people, sometimes nations.
The stories that follow in this section include animals to symbolise the pressures of life. Our need to strive to advance at the expense of happiness. Our erroneous beliefs about others, including nature.

CONTENTS
1. The Old Story Teller. An old man relates stories as metaphors and analogies in order to help people to recognise the causes and resolutions of their problems.
2. The Bird's Worlds. Sometimes the urge to progress ever onwards brings dangers.
3. The Snake's Skin. Vanity can hold us back. The inner self is more important than the outward facade.
4. The Fish Pond. However we perceive our spirituality, we are probably wrong!
5. The Vulture's Story. Even the seemingly ugly things in life have a use and a beauty.
6. The Salmon's Story. The choice between risk and safety in our search for fulfilment.
7. The Frog's Ladder. Whilst helping others is good, making total sacrifices is counter productive.
8. The Hawk's Story. Sometimes the discovery of liberation is frightening. The freedom that is gained should be welcomed rather than feared.
9. The Fly's Story. Is about not understanding what is really good for us.
10. The Web. Shows that creativity and individuality, as well as logic, have a place in the advancement of our lives.